The Bennetts Motorcycle Shop
As you walk through the door at Bennetts Motorcycles you can immediately sense the passion and effort that goes into this well-established family business which has been running successfully since 1949.
There is an outstanding range of motorcycles for all kinds of people, and we try our absolute best to make sure that buying a motorcycle is an exciting and unforgettable experience for all our highly valued customers.
Some of the bikes we stock are machines of pure beauty and performance. We have the entire MV Agusta range which is utterly unique and makes our show room different to any other. We also have a wide selection of Sym and Keeway 50cc's & 125's which are reasonably priced and ideal for getting from A to B. However, if you want your first bike with some real bite, then come view our range of Hanway and the Italian brands of Mondial and Benelli sports and street 50 and 125cc bikes. We also have the full range of Benelli larger capacity bikes in stock which are taking the European markets by storm being the best selling 2-wheel bike in Italy & France (2020).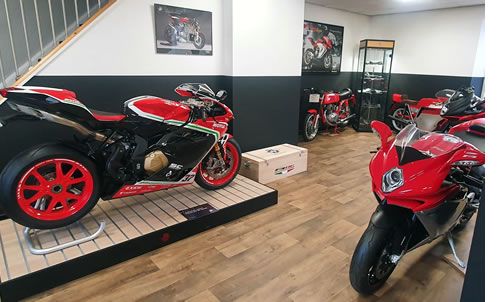 The staff at Bennett's Motorcycles are always friendly and eager to please. We have a knowledgeable sales team as well as a solid parts Manager. Most importantly though are our technical staff...Outside of Varese you won't find any better. Frequently called upon by the Factory to assist with technical improvements...That should give you more than enough confidence to leave your pride and joy with us.
We pride ourselves in customer service and we have won many awards from all leading makers of motorcycle but most of all we are proud to say that we have won the trust and dedication of our customers from the last 70yr+ and that without a doubt is our greatest achievement.
Please give us a call or drop in for a chat, whether that's to buy a spark plug, an F4 RR, or whether you'd like technical advice or to book a service, we're always happy to help.